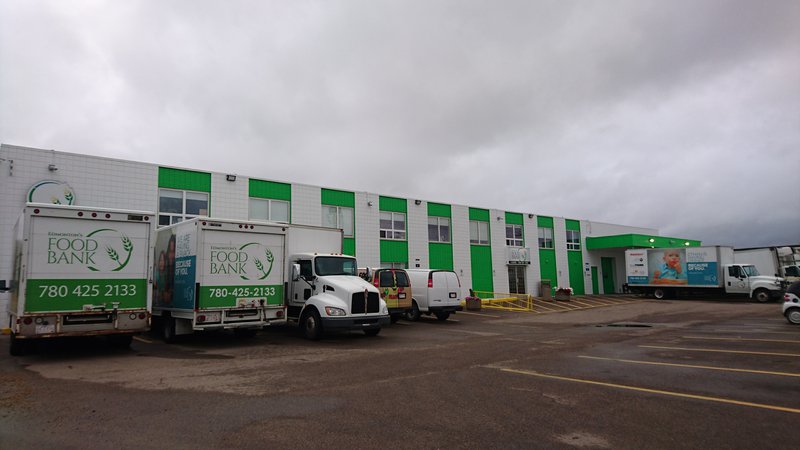 Edmonton's Food Bank was born through the realization of two factors recognized by a small number of individuals from various local non-profit organizations: hunger was affecting the lives of many of their clients and edible food was being wasted in the community. There was a desire to reconcile these realities and to establish a channel for surplus food from the food industry to help those who were experiencing food insecurity.
In April 1980, an ad hoc committee began investigating the possibility of establishing a food bank to serve agencies located within the inner city. Interest was high among these agencies to provide meal or snack programs to people in need. With funding provided by the Marian Centre, an official from Second Harvest Food Bank (Phoenix, Arizona) was asked to attend a workshop to provide his expertise. Following several meetings, an official steering committee was appointed by the participating agencies to carry out the planning for the Food Bank until the organization became legally incorporated and an official Board of Directors was elected.
To glean means "to gather by patient harvest the grain or other produce left by the reapers." Since 1981, this has been the mission of the Edmonton Gleaners Association: to collect food in order to feed those in need within our city.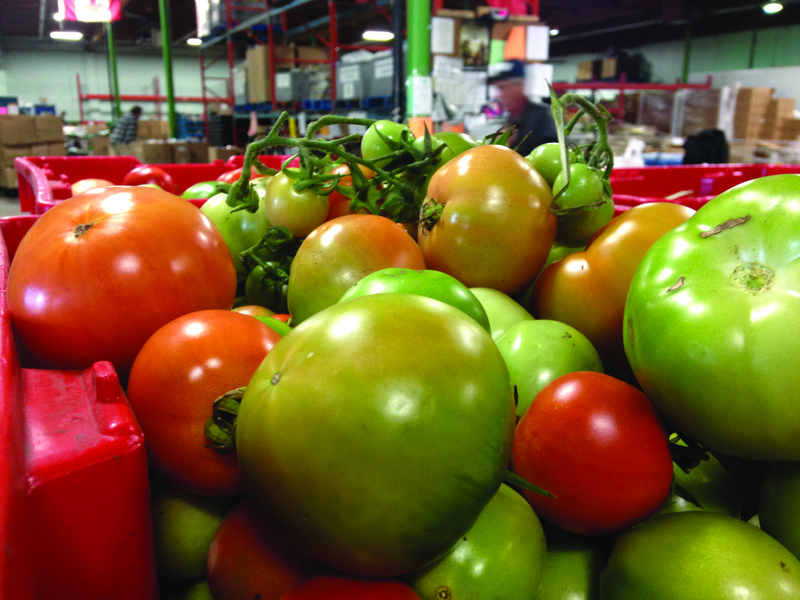 Edmonton's Food Bank collects food such as bread, pastries, fruits, vegetables, and near-dated dairy products from grocery stores, food producers, and warehouses. This food is edible, but not marketable for a variety of reasons, such as label or branding changes. Between 60%-80% of the food distributed by the Food Bank is gleaned from the food industry, including warehouses, grocery stores, farmers, and local growers.
In April 2004, the Edmonton Food Bank moved to its current location. This warehouse, located at 11508 – 120 Street, has a dock, parking and storage space in a lower-traffic area.
Our facility is centrally located and accessible to the entire city. It is close to major transportation routes and bus lines, has several loading docks, two walk-in deep freezers, and three walk-in coolers. With almost 6 million kilograms of food coming in and going out of the organization each year, the loading docks are essential. As well, the coolers and freezers enable us to maintain the quality of our perishable produce.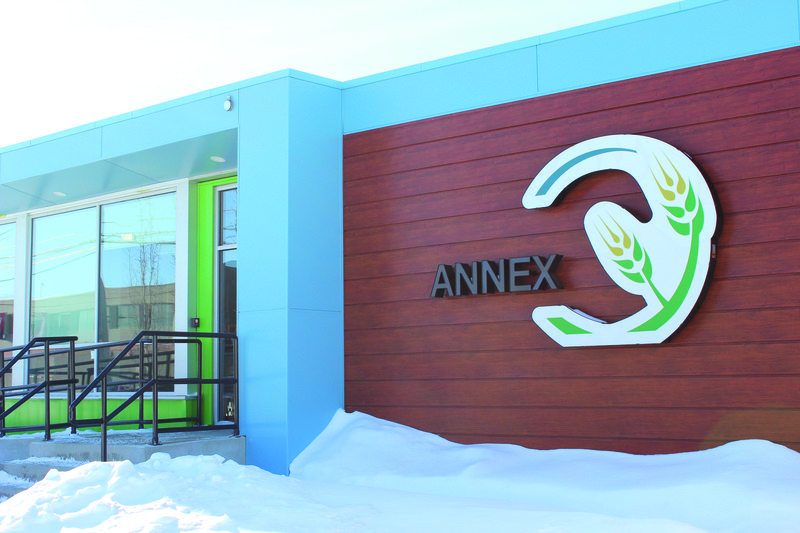 In 2014, Edmonton's Food Bank purchased additional warehouse space at 11434-120 Street now called the Annex. The Annex played a key role in enabling the organization to grow to meet the pressing demands on our services. Our Beyond Food Programming and other community initiatives are key staples for the building.
For more details on our History, please visit our Publications for Sharing the Harvest (Edmonton's Food Bank 20th Anniversary Book).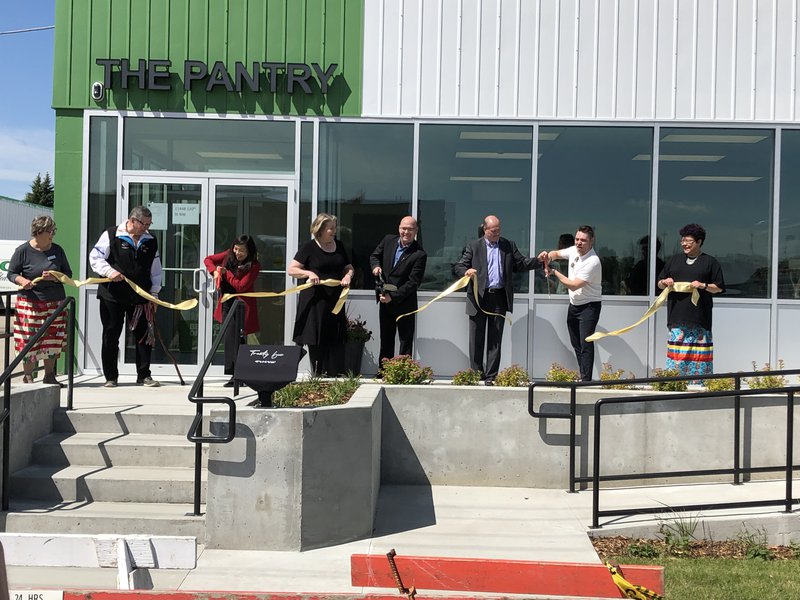 Edmonton's Food Bank Begins a new Chapter…
Edmonton's Food Bank has been serving our community for over 42 years. We operate as a central food warehouse and redistribution centre for Edmontonians and partner social services to address food insecurity. Because of increased need and long-term impacts, Edmonton's Food Bank has invested extensively in the resiliency of our services. Thanks to donors and our community, we are welcoming a new addition – a third warehouse and programming facility.
Today, Wednesday, June 21, Indigenous People's Day, Edmonton's Food Bank has officially opened our newest facility to serve the community. The building, in between our Main and ANNEX facilities (11448 120 ST) will be home for our community depot and new pantry. This infrastructure is thanks to donors, our community, and grants – Alberta Government's CFEP Large Funding Stream and the Realtors Community Foundation.
Edmonton's Food Bank proudly serves the community of Edmonton on Treaty Six territory. This land that is the traditional home and meeting place for many Indigenous peoples including: the Cree, Dene, Saulteaux, Blackfoot, Nakota Sioux, as well as Metis and Inuit. As part of its commitment to Truth and Reconciliation, Edmonton's Food Bank has named this new facility "NISO", a Cree word meaning two as the facility sits nicely between our existing buildings.
"NISO" is also the root of many Cree terms that relate to the Food Bank's mission, including:
Nisohkamakewin meaning "assistance" or "help"
Nisohkamakew meaning "help someone"
Nisoiskeyiw meaning "reaches with both arms"
NISO is a fitting name and its addition will provide new programming options and assistance for community members struggling.
Food Purchases
Each year, Edmonton's Food Bank purchases $2,000,000 worth of food. Between food drives, our food supplies often run low and we use monetary donations to ensure our hampers are nutritionally balanced. Additionally, we purchase shelf stable milk and fresh eggs to ensure our food hampers are protein rich and so our agencies have the variety they need for their programs.
Leadership Gift
In December 2015, Brad Shaw, CEO of Shaw Communications, and his family announced substantial personal donations to six Alberta charities. The Shaw family's 10 year commitment to donate $300,000 annually to Edmonton's Food Bank has increased our ability to purchase child-focused and healthy food for people in need.
"We understand that the current circumstances facing our communities are particularly difficult, and my family and I will be committing a total of $10 million to causes and organizations that make a difference to the health of our province. My family and I are honoured to support the good work of our province's charities".
Brad Shaw, Business Leader & Philanthropist
Community Support
In March 2021, the Edmonton Oilers Community Foundation honoured the late Walter Gretzky by donating net proceeds from the Wednesday, March 10 online 50/50 to Edmonton's Food Bank and Northern Alberta food banks. This generous gift will go towards supporting our warehouse operations, such as our food hamper and agency programs.
"The fact that we are honouring Walter Gretzky's wishes makes this gesture even more poignant, as he cared very deeply about giving back to the community."
Marjorie Bencz, Executive Director of Edmonton's Food Bank