'Tis the season of helping to feed someone in need in our community! This year's Festive Campaign will run from November 12, 2019 to January 10, 2020, and our goals are to raise 370,000 kilograms of food and $2,000,000. This food and funds will help provide festive community meals and hampers while ensuring our services remain consistent going into 2020. See our list of upcoming events this holiday season, along with the other ways to donate.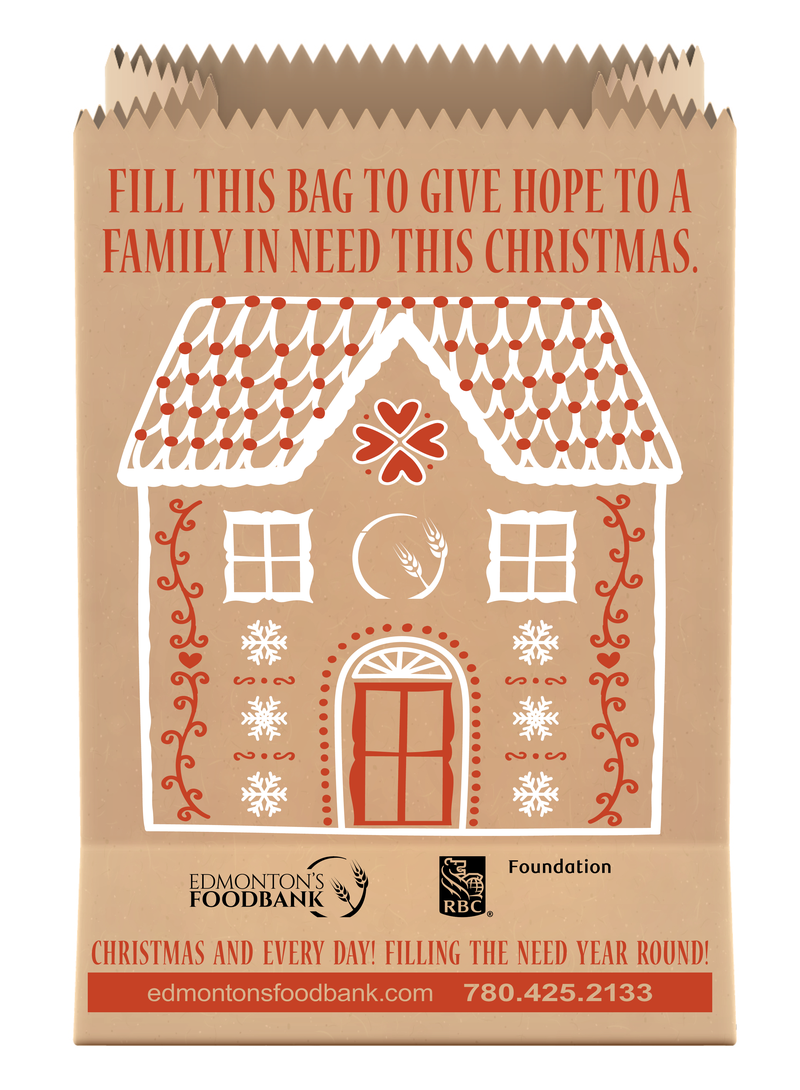 The Festive Brown Bags are out in the community the week of November 18. The bags include ways and locations to make donations (see list below). We will also accept any sized bag or box for donations. There are over 400 events in schools, businesses, and community groups that are raising food and funds in support of the Food Bank, including YEG Candy Cane Lane which runs December 12 - January 1. More events are listed on our events page. To start a food drive or fundraiser in your office or school, please reach out to us at 780-425-2133 or email someone on our special events team.
"We appreciate any contribution that you can give us during the festive season," said Marjorie Bencz, Executive Director. "When you support Edmonton's Food Bank, you are helping over 250 other groups to provide community meals and family hampers now and into the new year."
The article continues below after the video.
Mayfield Dinner Theatre Toonies for Turkeys
November 5 - December 26 | Class of '63
Tickets | Monetary donations gratefully accepted
Citadel Theatre: A Christmas Carol
November 30 - December 23
Tickets | Monetary donations gratefully accepted
Loblaw National Food Drive at all Edmonton Superstores & No Frills
November 30 - December 24
Non-perishable food donations gratefully accepted
ETS Stuff A Bus at all Save On Foods
November 30
Monetary & non-perishable food donations gratefully accepted
Stuff An LRT Train - Southgate Station
December 1 | 9 am to 4 pm
Monetary & non-perishable food donations gratefully accepted
Edmonton Symphony Orchestra Christmas Concerts
December 12, 17, 18, 19, 20, 21 & 22
Tickets | Monetary donations gratefully accepted
YEG Candy Cane Lane
December 12 - January 1 | 6 pm to 10 pm | 148 Street between 100 Avenue to 92 Avenue
Details | Non-perishable food donations gratefully accepted
Rosenau's 18 Wheels of Christmas With K-97, 96.3 The Breeze & 840 CFCW
December 12 - 14 | Hawkstone Co-op, Chappelle Co-op & Mill Woods Co-op
Monetary & non-perishable food donations gratefully accepted
CBC Turkey Drive
December 12 - 19
Website | Monetary & frozen turkeys gratefully accepted
Turkeys on the Trail
December 14 | 8 am start | Beverly Community Hall
Details | Monetary & turkey donations gratefully accepted